5th Annual Saddle Up for St Jude's Horse Show and Gymkhana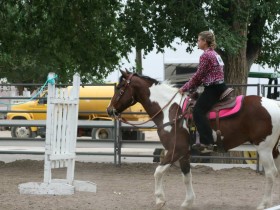 Saturday, April 5th 2014 will be the 5th annual Saddle Up for St Jude's Horse Show and Gymkhana event which will be held at the Colorado State Fairgrounds.   The office will open at 8 am and the show starts at 9.  There are classes for every discipline and for all ages.   We will have walk trot for the younger age, as well as classes for 11 and under that are comfortable at a jog/lope.  Some of the classes are showmanship. hunter under saddle, english equitation, western pleasure, horsemanship, reining, barrels, pole bending, up and back and the stake race.
For a full list of the classes click here Saddle Up for St Jude Horse Show and Gymkhana
Follow the link for the registration and donation form, St Jude 2014 Sponsor Form.   The cost for the entire day is just a $10 office fee per exhibitor and a minimum donation of $35.  We do encourage you to raise as much as possible, which will go to the St Jude's Children's Research Hospital, but you are only required to raise $35.
There will be awards for High Point and for each age group and division as well as prizes for riders who collect the most donations.
Please plan on joining us for this fun event.  Invite your friends and family and share in the fun.   Concessions will be available the day of the show.
If you have any questions, please feel free to contact me by email or by cell/text at 719-225-9961
By:
Ammie Thomas
on March 23rd, 2014
Category:
Articles
,
Community Events
Tags:
Community Events
,
Horse Shows