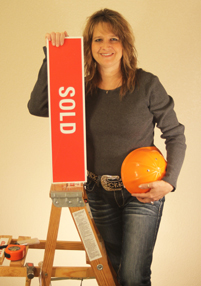 Sometimes finding that perfect home is hard to do when you have a "perfect area" in mind.  You may find a home in the ideal location or neighborhood….but the home lacks what you consider to be your dream home.   Well, I am excited to work with a team of professionals that can turn the dream in your head into a reality.  This process is like the TV shows you may have seen on the Home shows such as Property Brothers or Rehab Addict.  The focus is finding the location you want and a home with possibility.   Then the design team I work with at Ready 4 Renovation will put together some designs to show you what your new home could look like with some renovations.   Whether the home needs some updating, walls knocked down and moved or maybe the rooms needs opened up, the design team can help with the entire process.   As a team, we work together around the theme you are looking for, such as contemporary, sleek, country, southwest, victorian, etc..
I come from a family of contractors, 3 generations to be exact.  I love looking at a home and seeing what walls can come down, what can be moved and can envision the end project.  I want to help you put this experience to work.
The first step to this process is getting pre-qualified with one of the mortgage lenders I work with that will do the renovation lending.  This allows me as your agent to keep you within your total house budget.  Once you have your pre-qual, we can start shopping for your new home.  I will want to determine where your ideal area to live is, then we can look at homes that need some TLC, Short Sale and foreclosures.  These homes usually allow us to buy them at a lower price and then we can figure in the renovations to make the home your "dream home".    The total purchase price is now the cost of the home and the renovation costs.  This is the amount we want to make sure is at or under your pre-qual amount.
In most cases, once the renovations are done, you will have instant equity in your new home.  It is my job to make sure we don't purchase a home that you will have too much cost in and be upside down.  The appraiser also will take into consideration what renovations will be done to the home when he/she determines the price of the home once the project is complete.
Once we close on the property and you take possession, then the renovation work will begin.  The mortgage companies will up to 6 months after closing to finish the renovation process.  The contractors we work with understand this time frame and know that all work must be completed.
Your new home will now be your dream home!!  Your new kitchen or bathrooms are just as you have imagined. Or maybe that master bedroom has every last detail you envisioned.  Whatever the renovation project was, your home is ready for you to move in and enjoy.
What are you waiting for?  Don't drag out the process of trying to fit a square peg into a round hole.  Lets make every piece fit and you will have a home you are proud to come home to.