Peanut Butter Cup Cupcakes Recipe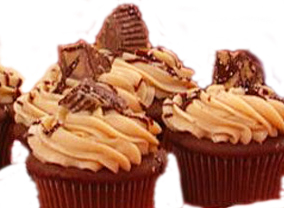 Buddy Valastro's Peanut Butter Cup Cupcakes 
These scrumptious cupcakes are not very hard to make, but they look like you slaved for hours, or better yet, that you bought them at one of the specialty cupcake shops.  These will be your new favorite cupcake.  Let me know what you think when you make them.
Chocolate cupcake batter
1 1/2 Cups cake flour
1 1/2 Cup sugar
8 Tbsp unsalted butter, softened at room temperature
1/3 Cup unsweetened Dutch process cocoa powder
1/3 Cup melted unsweetened Baker's chocolate
1 tsp baking soda
1/4 tsp baking powder
1/2 Cup hot water
4 extra large eggs, at room temperature
1/2 Cup buttermilk
You will need about 24 mini peanut butter cups if you want to add them inside the cupcakes (and then 24 for the top of the cupcake if you wish)
Peanut Butter Frosting
1 Cup butter
1 Cup peanut butter
5 1/2 Cup powdered sugar (preferable 6x)
1-2 Cups heavy cream
Preheat oven to 350 degrees
Making the batter – put the flour, sugar, cocoa, baking soda and baking powder in the bowl (stand mixer works best with the paddle attachments) Mix on slow until the ingredients are blended, then increase the speed and blend until smooth. Add eggs (one at a time) until absorbed in the mixture. Stop the mixer periodically and scrape the sides down.  Make sure the eggs are well blended in.
While mixing on medium speed, add the buttermilk (scrape down the sides if needed) and blend until smooth.
Pour batter into cupcake liners about 2/3 full.  If you want to add peanut butter cups into the batter, dip them 1/4 of the way in flour to prevent them from sinking to the bottom and burning. Bake the cupcakes for 18-22 minutes (depending on your oven)
Let them cool completely on a wire rack before frosting.
Peanut Butter Frosting
Mix the butter and peanut butter until blended, add the powdered sugar until it has the consistency of damp sand.  Add the cream slowly until it is the thickness you desire.
Frost the cupcakes and top with a peanut butter cup.  You can also drizzle melted chocolate over the top if you wish.
Enjoy!!
Ammie Thomas
Prudential Platinum Real Estate
By:
Ammie Thomas
on August 5th, 2012
Category:
Articles
Tags:
Peanut Butter Cup Cupcakes
,
Recipes